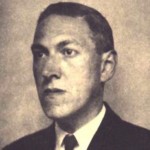 After the overall fizzle of DC's so-called "New 52", the remarkably ill-conceived and even more poorly executed Before Watchmen, my ongoing disinterest in anything that Marvel's "House of Ideas" — or should that be "House of 'Ideas'"? — has to offer, to say nothing of the genuinely heartbreaking news that Dave Sim is likely turning his back on comics altogether… well, the news that Alan Moore is working on a new miniseries about the life of H.P. Lovecraft has gotten me excited about comics again.
comicbookGRRRL has posted a full transcript of her interview with the extraordinary gentleman Alan Moore in which he waxes on all sorts of excellent topics, including his next novel "Jerusalem" which sounds fascinating… "And at the same time as this I've been working upon my novel Jerusalem which is at […]
Before the actual bloggery begins, I just wanted to give a shout out for my friends in New Zealand. You're all in my thoughts and prayers. And, to everyone everywhere else… you should all go make a donation to the NZ Red Cross right now.