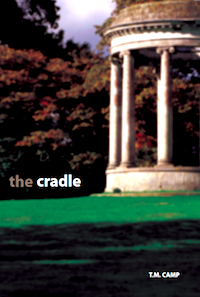 (If you haven't read Assam & Darjeeling yet, then be advised: Here there be spoilers.)
At the close of Assam & Darjeeling, readers were given a final glimpse of Jee as she approached the Winter Palace. But the path that takes her there is long and twisted, with many other stories to tell along the way.
In The Cradle, we find Jee enjoying the new freedom that comes with being an exile from the land of the living. But she soon discovers that freedom has its share of discomforts and dangers. Caught in a torrential downpour, she is taken in by a kindly old couple who, it turns out, have story of their own to tell. And Jee discovers yet again that things in the Underworld are not always what they seem.
—
"Another outstanding novella from Mr. Camp. I read this at one go because I didn't want to put it down. Anyone who is a fan of Assam & Darjeeling is going to enjoy this new chapter."
Buy Now
Available in paperback, hardcover, or for your Kindle.
Reviews & More
Visit GoodReads to read community reviews, add your own, and join the discussion.
Signed Copies Available
The perfect gift for your friend or (selfish) yourself. Autographed by the author, with a personalized inscription available on request.